Larry '78 and Jackie '80 Richardson Build on Legacy of Support with a Deferred Charitable Gift Annuity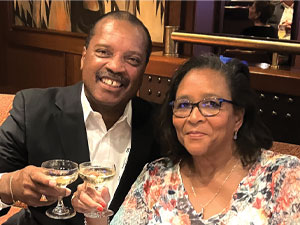 Larry '78 and Jackie '80 Richardson
Larry '78 and Jackie '80 Richardson, longtime annual supporters of The Swarthmore Fund, recently established a flexible deferred charitable gift annuity with the College. This gift will provide the Richardsons with retirement income while ensuring long-term support for Swarthmore students.
"We support athletics, the gospel choir, and more," says Larry. The couple also created the John G. Brokaw Scholarship, named in honor of Jackie's father. But the deferred gift annuity, according to Larry, offers "dual benefits: you get tax deductible contributions to the College, and you also get another source of income in retirement."
"I learned that you don't have to be a multimillionaire to be able to do these kinds of gifts," adds Jackie. "And, certainly, there were advantages to us in terms of taxes."
Larry and Jackie encourage others to consider the type of legacy gift they could leave to support Swarthmore's future. "Swarthmore helped us understand that we had the ability to use this option," says Jackie. "Beyond the amount you give, the representation of gifts across the board has such an impact — and every piece helps."
Adds Larry, "We need to cherish the institution that supported us and, with our charitable giving, maintain that institution and support the folks that come after us as best as we can."
A first-generation college student, Larry earned his B.A. in economics from Swarthmore and an MBA from Wharton in finance and marketing before beginning his career in investment banking. Jackie, now retired from her career in human resources, received a B.A. in history from Swarthmore and an M.A. in counseling psychology from Harvard.
© Pentera, Inc. Planned giving content. All rights reserved.
Disclaimer