Gerald McKenzie '74 Is Engaging Four Generations in Giving Back to Chester, Pennsylvania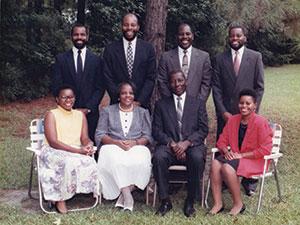 McKenzie family picture.
Front row: Renée McKenzie-Hayward,
Sara McKenzie (deceased),
Grover McKenzie, Iris Foreman.
Back row: Darryl McKenzie,
Gerald McKenzie, Grover McKenzie III,
Andre McKenzie (deceased)
For Gerald McKenzie '74 and his extended family, Chester, Pennsylvania, will always feel like home. His parents, Grover Jr. and Sara McKenzie, raised their six children on the 600 block of W. 5th Street in Chester from the 1950s to the 1980s. "Chester was an integral part of making us who we are," says Gerald.
In return, the McKenzie family gave back to the community. Gerald's grandmother, Arcissa Thompson, owned and operated a retail food store called Thompson's Market. Gerald and his siblings, aunts, uncles, cousins, and extended family worked at the store and saw Arcissa take a leadership role in supporting community-based organizations, civil rights, and political efforts.
Since 2008, the Grover and Sara McKenzie Family Foundation has been following in Arcissa's footsteps. The McKenzie family, spread across the country, were all active in their communities and contributing philanthropically to local organizations when Gerald proposed creating a family foundation. "I felt there could be some causes out there that we all agreed on that we could tackle together—and we could have a substantially stronger impact if we gave together," reflects Gerald.
The Foundation's Board of Directors includes four generations—from patriarch Grover McKenzie Jr., now in his nineties, to his great-grandchildren Asir and Jaylen, both 17 years old. Engaging multiple generations in the Foundation was important to the family. "We knew that it would be good training for the younger people coming through after us," says Gerald. "And we want this organization to continue for the next 50 years, which means getting the young people involved."
The McKenzie Family Foundation solicits support from individuals and businesses with common interests. Gerald reached out to his Chester High School graduating class of 1970 for the Foundation's campaign to support the Chester Children's Chorus (CCC). The two-year campaign, currently underway, has already raised $20,000 for this Swarthmore-affiliated program.
"I thought that the Chester Children's Chorus was a really good fit for us," says Gerald. He and his siblings were all active participants in school bands or choirs growing up, and the mission of the CCC aligns with the three pillars of the Foundation: to provide education assistance; to provide education opportunities; and to support and promote positive community involvement.
Looking to the future, Gerald believes that the younger generation will continue to lead the McKenzie Family Foundation. "We think there's a lot of opportunities for families to give back this way, and we want to be a key part of bringing those people in," says Gerald. "We're hoping that the time we put in with the younger people in the family will take them beyond where we are right now."
Learn more about the McKenzie Family Foundation at www.mckenziefamilyfoundation.org.
© Pentera, Inc. Planned giving content. All rights reserved.
Disclaimer