Priscilla Crago '53: Placing Trust in Swarthmore and Endowing a Chair to Honor Her Parents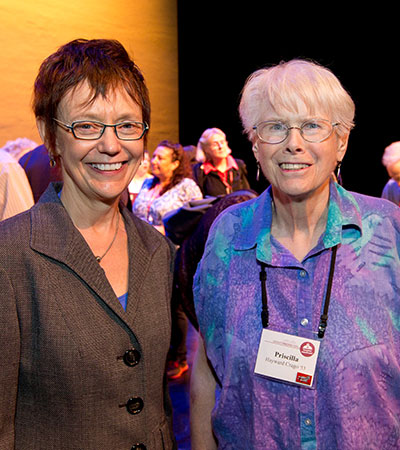 Priscilla Crago '53 (right)

Priscilla Crago passed away in May of 2015. The article below was written and published in the fall of 2013 and shares Priscilla's motivation for endowing the Elizabeth and Sumner Hayward professorship.
"My parents taught me to be generous," says Priscilla Hayward Crago '53, and that's exactly what she has been doing for many years. Her father and mother gave to their colleges, MIT and Simmons College, respectively, and Priscilla has followed their example. In June, Priscilla returned to campus to celebrate both her 60th reunion and the completion of a gift plan that will ultimately fulfill one of her most ambitious philanthropic aspirations—the funding of an endowed chair at the College.
Education always played an important role in Priscilla's family. After being accepted to both Wellesley and Swarthmore, she chose Swarthmore at her mother's encouragement. In May, Priscilla traveled to Vermont for another family educational milestone—the graduation of her granddaughter from the University of Vermont. Her grandson attends college in Florida.
A psychology major at Swarthmore, Priscilla worked at the Educational Testing Service in Princeton and later in the testing division for the Pupil Evaluation Program at the New York State Education Department.
Priscilla has a passion for travel and has explored the world, from the Galápagos Islands to the African continent and beyond. She also has an impressive collection of giraffe curios, an immediate topic of conversation when one enters her apartment.
After moving to a retirement community, she realized that her financial needs were changing. Still wanting to provide for the funding of a chair, she and her daughter Marcelle worked with Swarthmore gift planning staff to put in place a gift plan that would meet Priscilla's evolving financial needs and ultimately fund an endowed chair. Priscilla established a charitable remainder trust that will pay her a generous income for life. When the trust terminates, the College will receive the balance and the chair will be fully endowed.
The Elizabeth and Sumner Hayward Chair will honor her parents and is Priscilla's way of perpetuating the values they instilled in her—generosity and the recognition of the importance of education.
© Pentera, Inc. Planned giving content. All rights reserved.
Disclaimer