Perkins-Taylor Family Says Thanks for Educating Four Generations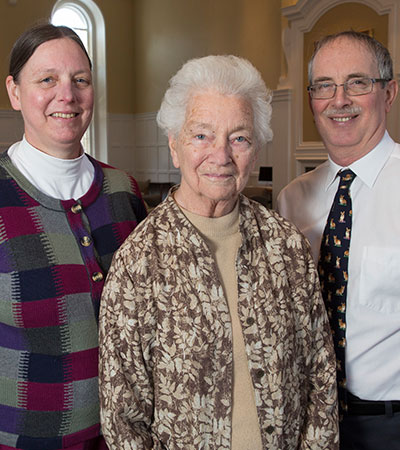 Brenda Perkins '79 and her family

It's easy to understand why Brenda Perkins '79 has made a gift to Swarthmore in her will: four generations of her family have attended the College; she grew up on campus as a self-described "faculty brat" and never applied anywhere else; Swarthmore is where she met her husband, Mark Taylor '80; and she is the veterinarian for the animals in the biology and psychology research labs.
"It was sort of a no-brainer," she says of the bequest. "My husband and I strongly believe in supporting the institutions we went to. I think Swarthmore's been in our will for as long as we've had a will."
The couple has intentionally not put any restrictions on their gift. "I think institutional needs change, so I leave it up to the institution to figure out where the money needs to go," Brenda says.
The family legacy at Swarthmore began more than a century ago; Brenda's grandfather, E. Russell Perkins, graduated in 1911. Her father, Edward Perkins, and mother, Jean Ashmead Perkins, both graduated in 1949, and her mother taught French at Swarthmore for more than 30 years. Brenda and Mark were married in the Meetinghouse on campus, and their oldest son, Ian Perkins-Taylor, earned a biology degree in 2013.
"We are a Swarthmore-ingrained family," says Brenda, who expressed gratitude for the education she received and for the lifelong friendships she made while playing hockey, squash, and lacrosse. "My mother also has the College in her will. And if my son ever makes a will, he might put Swarthmore in there too!"
© Pentera, Inc. Planned giving content. All rights reserved.
Disclaimer