Jody Williams '66 Passes Along an "Unexpected Gift"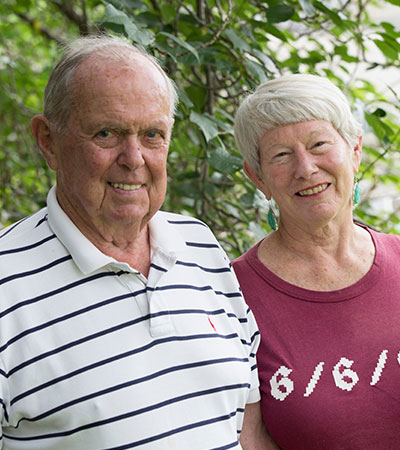 David and Jody Williams '66
After her "baby" brother passed away a few years ago, Jody Pullen Jenkins Williams '66 became responsible for his substantial estate. Not only was her brother "a frugal eccentric and genius stock market investor," according to Williams, he was also a philanthropist.
Inspired by his generosity and "unexpectedly armed, for the first time in my hitherto tightwad-out-of-necessity life, with real money to give away" thanks to her own inheritance from the estate, Williams began to research planned gifts that could help support the causes she believes in while also looking after her family.
"I like the charitable remainder unitrust (CRT) because it provides a predictable amount of money over time." In December 2015 Williams established a CRT with Swarthmore. The trust will pay modest annual distributions, a percentage of the value of the principal of the trust, to Williams's children Kirsten and Ian over the next 20 years. The remainder of the gift will then pass to the College to continue educating and supporting future generations of students.
Why Swarthmore? It's an especially relevant question given that Williams didn't have a "typical" Swarthmore experience. She lived on campus only during her freshman year when she "fell madly in love" with Gareth Jenkins '66. She and Gareth married at the start of their junior year and had a daughter, Kirsten, in October of senior year. When Kirsten was born with a rare and serious skin condition—at risk of infection or death as an infant—life dramatically refocused.
The couple later adopted a child, Ian, before divorcing. Ian, though bright and healthy, had, says Williams, "a long, hard time growing up," while Kirsten's skin condition has remained a lifelong challenge. But today, Kirsten is a teacher and head of school while Ian operates a major car dealership.
Despite her atypical experience as a student at Swarthmore, Williams is a devoted and active alumna. "I love coming to reunions," she exclaims, "because I finally get to know my classmates." Williams strongly believes in the purpose of the College: "The job of Swarthmore is to turn amazing students into amazing young adults who will go out and have a positive impact on the world." The academic rigor, commitment to social justice, and the lasting impact of Quaker values on her own life have convinced Williams to trust Swarthmore with managing her CRT and to be a vital part of her estate plan to honor her good fortune by passing along an unexpected gift.
Williams's gift honors her brother's legacy, provides a reliable annual supplement for her children, and supports an organization and a purpose she believes in and trusts. She knows the College will steward her gift well. "Swarthmore," says Williams, "teaches that our purpose in life is not just to become more privileged."
© Pentera, Inc. Planned giving content. All rights reserved.
Disclaimer