Honoring Her Path—Debby Hollister Hatch '72 on Including Swarthmore in Her Will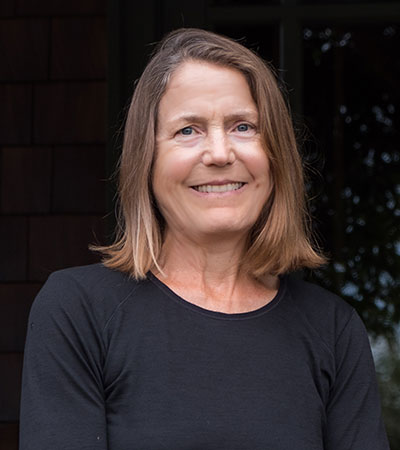 Debby Hollister Hatch '72
As Debby Hollister Hatch '72 tells it, the decision to put Swarthmore College in her will began as one more item on her to-do list.
"You get to a certain point in your life and you think, 'I need to make a will,' " she says.
For Hatch, some gentle encouragement from her former roommate, Ann Reichelderfer '72, an estate attorney in Princeton, New Jersey, also had something to do with it.
"At some point in the early 2000s I saw Ann," says Debby, "and she teased me that I needed to get a will. As an estate attorney, she saw how important they are."
In 2010 Hatch and her husband Scott followed Reichelderfer's advice to prepare a will. As they thought about what they would do with the remainder of their estate, they each asked themselves, "what has made a difference for me?"
"That's when I thought of Swarthmore," she says.
Hatch came to Swarthmore looking for an intellectual challenge at a "really good college." After joining the Honors Program, the English major learned how to manage herself and her time.
"Swarthmore introduced me to an ethic for making the most of my life in ways that were true to me," says Hatch.
Swarthmore also introduced Hatch to her husband Scott, who was a Pomona exchange student in the spring of 1972.
"It sounds corny," she laughs, "but in addition to my education, our relationship has been a major factor in creating the life I have today."
None of this would have been possible, however, without the "crucial" financial aid the College offered Hatch. As the eldest of six children, she wouldn't have been able to attend Swarthmore otherwise. That scholarship has been her motivation for annual giving to The Swarthmore Fund ever since.
"I felt it was important to give back to Swarthmore with even a modest amount annually," she says. "I knew there were lots of students who could benefit in the way I did from financial aid." But anything more than her annual gift felt out of reach for the university lecturer. "It hadn't occurred to me that I could make a planned gift until the time came to create my will," says Hatch.
When she returned to the campus for her 45th Reunion in May 2017—her first time back since she'd graduated—Hatch was inspired to notify the College of her bequest intention.
"They asked where I would like the bequest to go," she says. Her first instinct—after years of annual gifts to support financial aid through The Swarthmore Fund—was a scholarship. But then she wondered: "Once the students get in and reach Swarthmore, what's that experience like for them?"
Hatch spent 26 years as a faculty member at the University of Washington. She started out in the English department, but her work soon expanded into programs focused on helping students succeed at the university.
"I taught and mentored a lot of first-generation students, a lot of second-language students, and a lot of students from underrepresented groups," says Hatch. "It's one thing to get into college and to get the financial aid to attend, but it's another to survive in that environment."
That experience resonated for Hatch, the daughter of a nurse and an inspector in the highway department and a first-generation college student herself.
"My parents didn't have a four-year liberal arts college background. I don't feel that was a particular lack for me—there were lots of young people my age at that time whose parents hadn't gone to college, so it didn't seem like a big deal," says Hatch. But arriving on campus and realizing how many of her classmates' parents were doctors and lawyers made her recognize the difference in her background.
She researched Swarthmore's support programs for first-generation students and found the Richard Rubin Scholar Mentoring Program, which pairs students from underrepresented backgrounds with faculty or staff mentors and provides the emotional and practical support students often need beyond financial aid.
"I saw how similar it was to what gave me great satisfaction as a faculty member," she says.
With Hatch's bequest to the Rubin Scholars Program now on record at Swarthmore, the College is able to recognize and thank her as well as count the gift toward her class's 50th Reunion fundraising total.
She also hopes it will inspire others to consider their own planned gifts and to ask themselves what impact Swarthmore has had on them over the decades.
"In the 45-plus years since our class graduated, lots of things have affected our lives," says Hatch. "But how did the opportunity to go to Swarthmore set you on a path that you might not have followed otherwise? What do you have that you could give back?"
Now retired, Hatch looks at her decision to leave the College a bequest through the eyes of a pragmatist.
"You give something annually and it's sort of easy because you're just thinking about one year," says Hatch. "But when you're making your will, you're looking back on your life, planning for the end of it, and making some decisions. Swarthmore was an experience that set me on the path to where I am today. I'm grateful for that beginning, and I'm glad I've found a way to honor it."
© Pentera, Inc. Planned giving content. All rights reserved.
Disclaimer