Maralyn Gillespie Says Thanks for Lifelong Attachment to Swarthmore with Gift Annuities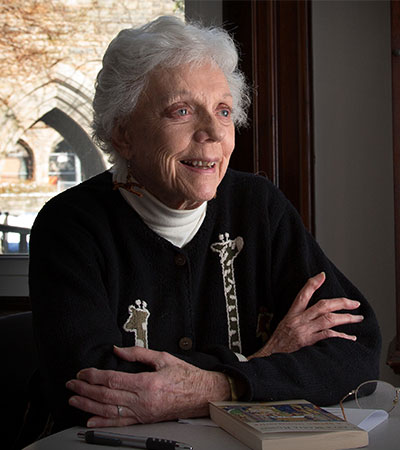 Maralyn Gillespie
"A charitable gift annuity is appealing. You get an attractive percentage as a return, and at the same time you're supporting something you really believe in," says Maralyn Gillespie of the six charitable gift annuities she has established with Swarthmore College. "This is just part of a lifelong attachment to an institution I am proud to have been part of."
Maralyn's attachment to Swarthmore includes graduating in 1949 and then working for the College for 37 years, retiring as associate vice president for alumni relations, public relations, and publications. She has been a regular volunteer at Scott Arboretum and has a tree in front of Parrish Hall dedicated to her. In recognition of this lasting connection to the College as an alumna, an administrator, and now a volunteer, Maralyn and her husband George made a gift to the arboretum in 2009. The George and Maralyn Orbison Gillespie '49 room in the Wister Center is another reminder of her lasting connection to Swarthmore. She has included the College in her will as well. "Working in the alumni office, I saw the belief in and love of the College by alumni," Maralyn said.
Maralyn grew up in New Albany, Indiana, the daughter of an attorney. A friend of her father had a daughter who attended Swarthmore and recommended it to her. "I was looking for a small, residential college that was coed, and I got it in my head that I wanted to go east for college—and I got in, which was a big surprise," Maralyn related, adding with a twinkle in her eye, "I think they needed people from Indiana."
Maralyn earned a bachelor's degree in English literature with a minor in history. She cites as her best memory the six lifelong friends she made. "We met on Third East (of Parrish Hall) freshman year, and the seven of us remained friends through graduation, marriages, divorces, children, and cross-country moves."
After graduation Maralyn went to work for Country Gentleman magazine. Swarthmore later hired her as an assistant dean, and she subsequently became director of the News Office, editor of the Alumni Magazine, and head of alumni relations.
"We started the magazine from nothing," Maralyn recalled. "At a conference one man told me our cover was one of the ugliest he'd ever seen … and then later our magazine was chosen as one of the top ten in the country!"
After retirement she remained connected to the College as a volunteer at the Scott Arboretum. Two of her charitable gift annuities are designated for the Arboretum, while the other four are unrestricted.
"I left it up to the College where it most needs the money," Maralyn said of the unrestricted annuities. "A charitable gift annuity is a good deal. It's a nice percentage you get as a return, and yet you're still supporting something you really believe in."
Maralyn said she is happy to give back to a place that has been part of her life for so many years. "I remember walking up the hill from the library after studying at night," Maralyn said, "and thinking to myself, 'How lucky I am to be here.' "
© Pentera, Inc. Planned giving content. All rights reserved.
Disclaimer